What are the signs of a faulty car battery?
A faulty battery can lead to more issues than just the engine not turning over. Let's take a look at the possible signs, but more importantly, the right solution to getting you back on the road.:
If you think your car battery is on the brink, it most likely is and needs replacing. Checking your car battery is simple to do. It's best to check your battery before it damages your alternator or other important engine components. Should you need a new battery, Tyrepower supplies and fits Australian made, quality batteries.
The battery is more often than not the weakest link and the most common cause of breakdowns. We've all been there! There are a few simple checks to cover to make sure you do not get caught out in the middle of nowhere with a flat battery.
Here are just a few things to look out for:
Lifespan
Some people seem to think a car battery will last as long as you have your car, unfortunately this is not the case. The lifespan of an average sized car battery is around 3-5 years. It's a good idea to take note of when you last replaced your battery as this will give you the best indication of when it's time for a new one.
Corrosion
Visually, your car battery should be clear of any corrosion or build up of acids on the terminals. The terminals are the two contact points between your vehicle's wiring and the battery. You can check the terminals by lifting the hood of the engine bay, locating the battery and removing any plastic guards, or covers.
Corrosion can lead to voltage issues that may prevent your car from starting. It can also mean that the battery isn't recharging effectively. A car battery that is kept clean and free of corrosion will operate at it's best.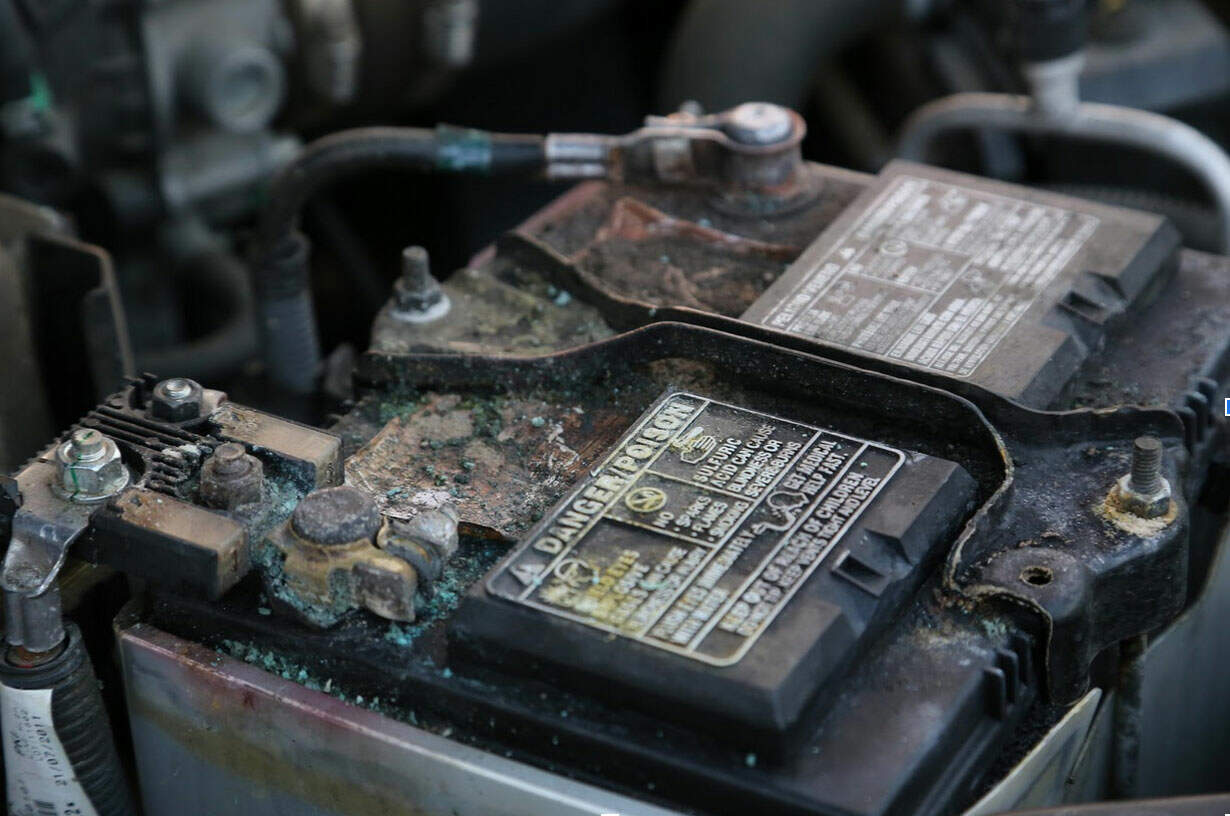 Slow Crank
A slow turning engine crank is generally a common indicator that your car battery is nearing the end of its lifespan. As the components of a car battery wear out and become less effective, it takes longer to create the necessary charge for the starter.
A slow crank is the sound of your engine trying to turn over repeatedly. It is not a good idea to hold onto your ignition key as this will burn out your starter motor and cause more damage to engine components.
Level Indicators
Some car batteries have level indicators located on the side of them. You can check the fluid levels of your car battery against the information provided by your battery installer or in your owner's manual.
A drop in fluid levels can be an indication that the battery is overheating.
Dimming Lights
Other signs of a faulty car battery may be dimming lights. These can be either internal or external lights including headlights, tail lights, blinkers, dash lights and ceiling lights. Any issues with dimming lights caused by a flat, or faulty, battery will be more noticeable while driving at night.
Alternator
Once your battery has turned the engine over, your alternator comes to life, sending a charge to the battery and electrics. A faulty battery will damage your alternator, which basically causes the vehicle to die. This can be dangerous while driving as you will lose things like power steering and ABS braking.
Bloated or swollen battery case
If your car battery is exposed to excessive temperatures, it can cause the case on your car to swell or crack. This will decrease the life of your car battery.
Monitoring for visible signs of bulges or cracks can help to identify battery faults early on, preventing unexpected car battery failure.
Think you need a new car battery?
If you have noticed any of these issues with your car battery, it might be time for a replacement battery. Tyrepower supplies and installs quality, Australian made batteries. Your local Tyrepower centre can offer the complete fitment of battery to most makes and models.
With over 50 stores across Western Australia, it's never been easier to get in contact with your local Tyrepower center. Check out our store location guide to find the nearest store to you.